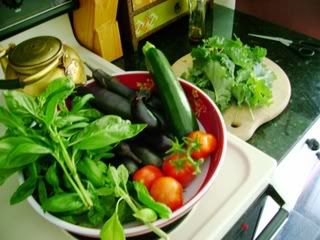 So I had great ambitions for yesterday but only one of them happened. I did weights at the gym on Tuesday for the first time in a month and woke up yesterday moving a lot like Frankenstein, so most of my cleaning and extra-spin-class ambitions did not come to pass. Went to my regular class this morning though.

I did clean the kitchen and cook the awesomest eggplant dip from my garden harvest for the neighborhood BBQ. Also studied my Spanish for about three hours accompanied by a Law & Order marathon. Heh. My new roommate came to the BBQ and met the neighbors. She's going to fit in nicely, and now they'll keep an eye on her during her first week when I'm not there, too.

Today I'm just preparing for my retreat this weekend. I'm really looking forward to this time at the monastery – it's hard to believe I go tomorrow when it was three months ago I booked the weekend during a meltdown. The retreat is called "Listening to God," and as usual the timing is about right.

Roasted Eggplant Dip á la Lady Marmalade

1 large regular eggplant or 7 small Japanese ones
6-8 roma tomatoes
6 cloves garlic
25 large fresh basil leaves
2/3 c. cottage cheese
2 tbsp. shredded asiago cheese
Salt and pepper
3 tbsp. Extra virgin olive oil

Preheat oven to 425. Peel and cut eggplant into chunks. Cut up tomatoes into ½" cubes. Peel garlic cloves and slice open. Oil a cookie sheet with one tbsp. of the oil. Place eggplant and garlic chunks at one side and tomatoes at the other. Drizzle the rest of the oil on top and add salt and pepper to taste. Place cookie sheet in oven and roast for 25-30 minutes. Remove from oven.

Put roasted eggplant and garlic into food processor or blender. Add cottage cheese. Blend thoroughly. Add most of the basil leaves – pulse only until the basil is in small pieces, not pureed.

Add mixture into a shallow cast iron or glass baking dish. Fold in the roasted tomatoes. Add asiago to the top. Bake uncovered for 15-20 minutes. Garnish with basil leaves and serve hot with pita chips. Bon Apetit!